Sånt är livet
2015, Wahlström & Widstrand, Sweden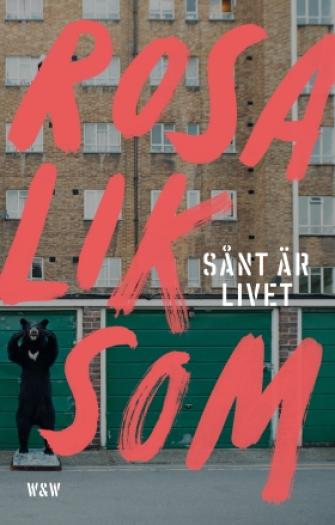 Rosa Liksom
Sånt är livet (original title: Väliaikainen)
Översättning / Translator: Janina Orlov
Publisher: Wahlström & Widstrand (2015)
Med Sånt är livet är Rosa Liksom tillbaka i kortprosan, en form som hon behärskar till fullo. Alkoholism, arbetslöshet, depression, utanförskap, destruktiva relationer, passion, nyfamiljer, riksdagsengagemang, jaktupplevelser vid ryska gränsen, reflektioner kring Breivik, är bara några av ingredienserna som ingår i Liksoms burleska dekokt. Liksom berättelsen om kvinnan som i reality-tevens tidsålder planerar sitt och alla tiders bröllop i tre års tid, men glömmer att det behövs en brudgum.
 
Med berättelser som sträcker sig från dagens Helsingfors till nordligaste Finland är Rosa Liksoms nya bok ett lysande tidsdokument, med insikter som inte har något bäst föredatum.
---
Following the success of her Finlandia Prize-winning novel Compartment No. 6, Rosa Liksom returns to very short prose, a genre she pioneered, and a medium in which she is still an undisputed master.
Passing Things is a quick-moving pageant of citizens of today, with all their worries and troubles and all the love burning in their hearts. A single parent, a spiritual guide, an election observer, an estate planner, a genealogist, a poacher, a tourist in Turkey, a returnee to Finland, a tipsy policemen, the world's greatest steel worker, a young shopper, a forgotten woman, a rejected and bitter man, these are its characters. Municipal mergers and the China phenomenon are discussed, the plight of the elderly is puzzled over, immigrants are eyed suspiciously, as are killer moose, angry bees, thieving wolverines, peacocks, and magpies. From this multivoiced, multiform testimony a single voice emerges, a soliloquy of modern Finnish society.
Passing Things is a mirror on our mental condition in the here and now. If the image we see is as black as a polar night, it's not the mirror's fault – or Rosa Liksom's. She has an unflinching eye, an infallible ear, and a gift for writing about the joys and disappointments of ordinary people, which is a great good fortune for the rest of us.