The Land Of Santa Claus
2006, Maahenki (photos Kristiina Kontoniemi)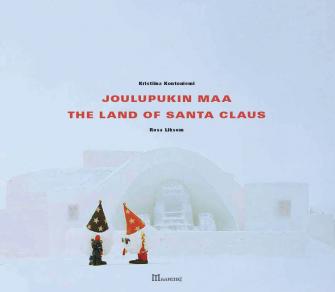 Joulupukin maa - The Land of Santa Claus
photos Kristiina Kontoniemi, stories by Rosa Liksom, translated by Hilkka-Roosa Rocosa
---
Page preview
---
The road going north is long. The reindeer graze by the side of the road. A camera rounf your neck ready to photograph the highlights of the trip. The radio plays popular tunes full of feeling.
Lapland, space to breathe. What is it like here? When are we at the destination? The traveller meets his destiny and dreams, the midnight sun and clean mountains. Of the trip just continues, without a clear destiny. A searcher finds and gets lost, gets a grip of something and tries it.
The north, promoted as the land of Santa Claus, has showed its many sides and its unpolished character to the photographer Kristiina Kontoniemi.
The writer Rosa Liksom's stories are inspired by memories and glimpses of everyday life, which glide and continue when the traveller has come and gone.