Monsters
2004, Poco (printit Klaus Haapaniemi)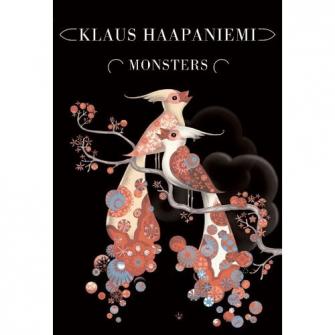 Proosarunot Klaus Haapaniemen graafiseen design- kirjaan.
Klaus Haapaniemi's new monograph features illustration and design that draws on a surprising variety of influences that range from Finnish tribal culture to Scandinavian design and the works of French artist Toulouse Lautrec. Developing ideas put forward in his first book, Quattro Stagioni, Haapaniemi uses six distinct forms to explore a world that is baroque, hallucinogenic and startlingly inventive.
This richly illustrated book also features a story by Finnish novelist Rosa Liksom which is based on a series of Haapaniemi's surreal images – images that have seemingly been snatched from children's stories and subjected to his own unique method of digital distortion. Once described as the most influential designer to have emerged from Scandinavia since the Second World War, Finnish national Klaus Haapaniemi works primarily in the fields of fashion and illustration.
This is a preview.